Raura

'

Pairing:

Status:

Really close friends; co-worker

Also See:
Raura
(
R
/oss & L/
aura
) is the real life friendship/romantic pairing of Ross Lynch & Laura Marano. The two have been shown to be good friends and are very comfortable around each other. This could be
seen in various interviews like with FanLaLa, Radio Disney, and KTLA. Ross had been trying to convince Laura to create a Twitter account, which she eventually did.
Raura Moments
Edit
Ross has tweeted many times that he is trying to convince Laura to make a Twitter (along with the other cast members).
During their interview on KTLA, Laura is the one who brought up how Ross is an amazing dancer.
Both Ross and Laura kept smiling at each other during their KTLA interview.
In an interview for Girlfriend Magazine, Ross and Laura said they spend a lot of their time together because they have school together and they are really close.
Ross said that Laura is an amazing actress who can act anything out, she responded with, "Aww, Ross you make me blush!"
Ross and Laura said they know each other so well and because they're always together when their on/off set, they finish each others sentences.
During a livestream, Ross said "Auslly 

and Raura". Raini and Laura were convinced that it was their friendship name. Ross said that they were joking but Laura said that she wasn't. Ross then said, "You guys know" meaning that he knows that we know that Raura is actually Ross and Laura's couple name. He was trying to defend the name.
A picture was found on tumblr of Ross and Laura and Raini together at the NBT finale. Ross was laying down while Laura and Raini were next to him on each side. Ross seemed more closer to Laura than Raini. Plus his head was leaning against hers. 
Other Names
Edit
Lauross (Laur/a and R/oss)
Rossaura (Ross and L/aura)
Lass (La/ura and Ro/ss)
Rora (Ro/ss and Lau/ra)
Larano (L/ynch and M/arano) 
Sharie (Sh/or and M/arie)
Moss
Loss
Saura
Fanfictions
Edit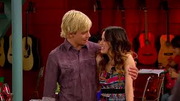 Raura Similarities
Edit
They are both the main character on Austin & Ally.
They were born exactly 1 month apart Laura on November 29th and Ross on December 29th.
They are both singers.
They are both actors.
Both have siblings who act on other currently airing TV shows (Vanessa Marano from Swithed At Birth and Riker Lynch from Glee).
They are both Ambassadors for Disney's Friends for Changes program.
They both have a twitter account.
They both have an older sister (Vanessa Marano and Rydel Lynch).